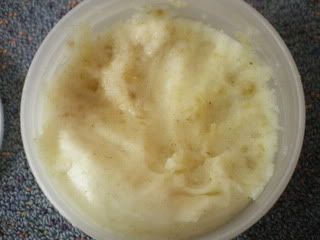 An absolute bargain for AUD 3.99 marked down from 9.99 at Priceline stores in Oz. I love St. Ives' Apricot scrub which I use to exfoliate my face and feet and I was pretty sure I would love this as well.
What does it do?
It is an in-shower body exfoliating body polish (226 gms) with Oatmeal and Shea butter extracts. It also has natural sugar crystals which help in gentle exfoliation. It actually foams up into this smooth texture in the shower which was a pleasant surprise.
Why I love it?
It smells quite nice just like Shea butter and the sugar crystals dissolve with use. Before using this I had some flaky skin on my legs but in just one use I felt smooth and moisturized. I even skipped my body lotion after this. I now use it in a warm shower before going to bed. I find that I sleep better after with its subtle scent and with moisturized skin. I use this only twice a week though and make sure I don't get water into it.
Do you have any favourite St. Ives products?